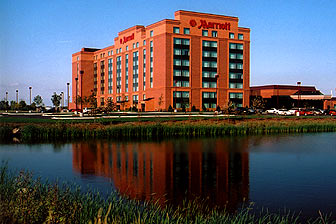 AMENITIES, TECHNOLOGY,
ACCESIBILITY & VALUE

Prairie Stone's 295 room Marriott Hotel offers quality conferencing, dining and lodging.
Kindercare at Prairie Stone allows employees the security and convenience of child care.
Prairie Stone Sports and Wellness Center's 100,000 square foot facility includes basketball, tennis, rock climbing and outdoor jogging, encouraging employees to maintain health and mental focus.
Click for a Virtual Tour of the

Prairie Stone Sports and

Wellness Center
On-site ATT central office offers fully redundant fiber optic infrastructure through the park, an ideal backbone for voice, data, and broadband Internet. Redundant electrical feed capacity and an on-site Com Ed substation offer outstanding power reliability and nearly unlimited capacity.

ACCESSIBILITY:

· Two interchanges on I-90 offer quick access to all Chicagoland.


· Drive time to O'Hare Airport under twenty minutes.


· Public transportation accessible via Metra, Pace and bus pool.


· Schaumburg and Elgin less than ten minutes away.

VALUE:

· Competitively priced office spaces and land sites of 2-30 acres available

with all infrastructure in place.


· Expressway frontage provides signage opportunities along I-90.


· Compatible uses and architectural controls ensure long term safety and

preservation of investment.


· Re-creation of the native prairie reduces costs relative to traditional landscaping.

©2001-2012 PRAIRIE STONE All Rights Reserved